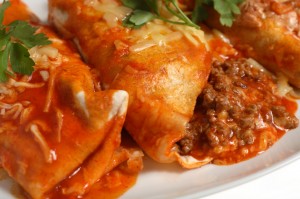 Hey guys, I'd like to make some burritos and tacos tomorrow using pork/beef/chicken. I'd like to know what it is a good cheese that Mexican cuisine may use. I've read some other posts that state to use monterey or mozzerella or even a blend of these but is this for real or is there another cheese that may not be so main stream that can be used. If anyone knows I'd be grateful. Thanks.
scrgrl is right.
Queso Fresco is about as muy autentico as tacos and burritos get – and both dishes are so Tex-Mexed, that authenticity is best left to debate societies; go for flavor, and hang the authenticity
Substitutes – in texture, though not in flavor – would be Feta, Ricotta Salata (made from the leftovers of the Ricotta process), and Wensleydale Cheddar.
Monterey Jack, and mild Cheddars are good variations, and will actually melt and thus substitute for Queso Blanco in dishes calling for that, such as Tex-Mex style chiles rellenos ( autentico is to stuff with meat and veggies, then roast instead of batter and fry) and rolled enchiladas.